Alumkadavu

Gliding along the calm and serene backwaters flanked by green leaves and palms, seeing a rural Kerala preserved through the ages and completely hidden from the road is an enchanting experience to any visitor, more so while sailing a slow-moving, spacious Kettuvallam.
Alumkadavu, a quiet spot in the town of Karunagapally - hardly 23 kms. north of Quilon (travel time: 30 min) has become a hot point of Kettuvallam building, with more than a hundred people involved. These huge, long and tapering barges were traditionally used to move tones of goods across kingdoms, with a portion covered with bamboo and coir serving as a rest room and kitchen for the crew. A familiar sight on the waters, these vessels are built entirely without using nails.

| | |
| --- | --- |
| Planks of jack wood are joined together with coir rope and coated with a caustic black resin made from boiled cashew kernels. With careful maintenance they last for generations. | |
Today, widely and appropriately called houseboats, they carry furnished bedrooms, modern toilets, cozy living rooms, a kitchen and even a balcony for angling. Some are powered by a 40 HP engine. At Alumkadavu, you can even find a floating conference hall, designed to seat 35, with a dais and a sophisticated public address system.
Calicut

Up north in Kerala, the meandering backwaters of Calicut (Kozhikode) lie waiting to be discovered. With a bewitching beauty of its own.
North east of the city, Elathur offers an ideal jump-off base into the Canoly Canal - a name taken after its British builder and administrator. The canal links itself to the Kallai River which unhurriedly threads through the city and offers its shores to Calicut's historic timber trade. The produce of which is believed to have even adorned the courts of King Solomon and Queen Sheba a few millennia ago.
Further south lies Kadalundi with its charming bird sanctuary - haven to an amazing assortment of delightful water birds. Another river of the region - Korapuzha - is fast gaining popularity as the venue of the water sports festival - the Korapuzha Jalotsavam - staged every August.

Kumarakom
At Kumarakom, you could sail the backwaters in rented houseboats, which are poled by local oarsmen and are simply furnished with a living room, a bedroom and bath, together with a raised central platform creating a private sit-out for the passengers.
Sections of the curved roof of wood or plaited palm open out to provide shade and allow uninterrupted views. Boat trains - formed by joining two or more houseboats together - make for a convenient mode of sightseeing when the company is large. You could even take a canoe out into the quiet lagoons and spend time angling. Make sure you sample Karimeen and fresh Toddy - the favorite fresh-water food and the local wine.
| | |
| --- | --- |
| This is an ideal place for backwater cruises. A beautiful backwater spot accessible from Kumarakom is Alleppey.On the shores of the enchanting Vembanad lake, 14 kilometers from Kottayam (travel time: 20 min), lies Kumarakom in its small-town hush. | |
Redolent of restful ease.A boat ride into the countryside offers a close look into an engaging rustic life. Skiff-fishermen launching their cockleshell boats. Large flotillas of ducks waddling down to the water from thatched houses on the banks. Women, neck-deep in water, with their waist-length hair heaped in a crown, searching for fish with their feet.
A 14 acre bird sanctuary is situated on the eastern banks of the Vembanad Lake. The sanctuary adds to the natural beauty of Kumarakom. Birds (waterfowl, water ducks, cuckoos, wild ducks etc.) nest and spend happy summers here. Birds like Siberian Storks migrate here every year. The sanctuary is open from 10 a.m. to 6 p.m.

Alleppey - Kuttanad
The sweeping network of canals, honey-combing the town of Alleppey (Alappuzha) has earned for the place its sobriquet - "The Venice of the East." Small, low-slung country boats are the taxis of this waterland.
It is a heart-warming sight to see them carry a motley assemblage of cycles, goats, fisherwomen with cane baskets, school children, toddy-tappers with their knives and pots, duennas in white with gold earrings, Syrian Christian priests and a bare-chested boatman apiece.
| | |
| --- | --- |
| Do not miss out on a ride into Kuttanad through shimmering, green paddy fields and tail-wagging, head-bobbing groups of ducks. | |
The coir-workers too present an interesting sight as they soak coconut fibre in pools, beat them out and weave the tough brown strands into long ropes on spindles stretched between endless coconut trees.Alleppey becomes the cynosure of the eyes of the world in August - September, every year, as it plays host to the celebrated Snake Boat Races - a water regatta unique to Kerala.

Cochin
Come into Cochin (Kochi), Queen of the Arabian Sea. Believed to be the finest natural harbour in the world. With ferry rides commanding its breathtaking view.
Cruise around man-made islands with lush green lawns sloping down to the water's edge.Cochin is the oldest European settlement in India. Recording a history of visitors who came, saw and stayed for hundreds of years. Layered impressions - Chinese, Arab, Jewish, British, French and Portuguese, are contained within its environment.

Giant Chinese fishing nets that billow from massive teak and bamboo poles dot the entrance to the harbour. Silhouetted against the setting sun, they present a magnificent sight at the waterfront. A narrow, palm-fringed island, easily accessible from the mainland is where the Bolghatty Palace is situated. The palace was built by the Dutch in 1744. Later, it became the seat of the British Resident of Cochin and today this has been converted into a hotel run by the KTDC. The palace has a golf course on its grounds.
Quilon
The charming old port city of Quilon (Kollam) on the banks of the picturesque Ashtamudi Lake is now known more as the centre of cashew industry. Traces of a once prosperous trade with China are still seen in the form of Chinese fishing nets, huge Chinese water pots, blue and white porcelain and sampan-like boats.

Quilon is an inviting gateway to Kerala's backwaters. For an interesting backwater experience, take the regular ferry to Alleppey - a rigorous ride lasting more than 8 hours.As the old ferry putters from one village on the waterfront to another, you are treated to a full range of lives and activities and some of the most beautiful scenery imaginable. For the less intrepid, shorter cruises can be made in the larger comforts of the houseboats with idyllic villages such as Alumkadavu as your launch base.

| | |
| --- | --- |
| The nearest airport, Trivandrum, is 71 kms. away. It takes fractionally over an hour to get to Quilon by road or rail from Trivandrum. | |
Veli - Akkulam
Within hailing distance of the capital city Trivandrum (Thiruvananthapuram), is the Veli - Akkulam lagoon with a delightful waterfront park growing increasingly popular among the natives and tourists alike.
Only a narrow sandbar separates the lagoon from the sea. You can opt for rides in motor-driven safari launches, power boats, pedal boats or row boats. Kayaks and hovercraft attract the brave-hearted. A floating bridge and a floating restaurant add to the overall excitement. The eastern end of the lake is flanked by two scenic hillocks coming through as a perfect hiking ground.

Veli Lagoon
2 kms. from Trivandrum Airport. The Veli Tourist Village on the outskirts of Trivandrum is a delightful waterfront park which has become extremely popular with Trivandrumites.
It is a nice place for tourists with young children to spend an afternoon. There is lots for the kids to do, and they will meet many of their young Kerala counterparts, all of whom will be eager to make new friends and try out their English.

The main attraction at Veli is water - a large inland lake, separated from the ocean by only a narrow sandbar. For a few rupees, rides can be had in motor-driven safari launches and power boats, or a family can drift about in a pedal-boat or a row boat. There are kayaks, and even hovercraft, for the more intrepid. While skimming over the lake, visitors will see the local fishermen readying their boats, working on their nets, or poling sand-laden barges.
| | |
| --- | --- |
| There is a floating bridge, and a floating restaurant too. Open every day; boat rides available until 6.00p.m., after which the lake reverts to the sole use of fishermen. | |

| | |
| --- | --- |
| For your tots, there is a tiny lake within the park, with sturdy, round "tub boats", equipped with miniature paddles. | |
A small cafeteria serves ice-cream, cold-drinks and snacks, and the grounds are dotted with interesting climbing sculptures designed by the well-known sculptor Kanai Kunjiraman.There are pony rides, and an open air theatre. This serves as a center for cultural performances and, with the ocean as a backdrop, provides the setting for an annual arts festival. Check with the Government Tourist Office in Trivandrum for schedules of any special events. The park can be reached in a 15 minute taxi ride from Trivandrum. There are also special bus services to Veil from the city.
Tourist Village at Akkulam
Akkulam is one of the first picnic spots in the suburbs of Trivandrum City. This place is only 10 kms away from the Central Railway Station. The spot is developed on the banks of Aakkulam Kayal (lake), which is an extension of the Veli Kayal (lake). The calm and serene atmosphere and its unique natural beauty is fascinating for the tourist. The village consists of the Boat Club, Swimming Pool, Children's Park, an Anthurium Project and a Snack Bar.

The Backwaters Treatment
Swaying coconut palms and meandering waterways create a magical charm to the land. special magic of the backwaters: a great and glistening web of rivers, canals, lakes and estuaries where time flows at a measured pace and yesterday and tomorrow merge into an ever-lasting , jade-green, today.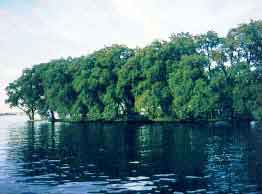 The bluish waterways and the green land mélange to create a mood that begger description. When you first encounter the backwaters they look unreal: slow flowing watery highways meandering between palm-hung banks. Clearly, the best way to encounter these water lands is to hire a houseboat. These long, broad-beamed, boats were once rice boats carrying mounds of grain from the Kuttanad , rice bowl of Kerala, to the great voracious cities. Then a complex of roads feathered out across the State and the rice boats lost business to the trucks.

This is when the bright entrepreneurs of Kerala said: "Anything Kashmir can do, we can do better!" They bought rice boats from the out-of-work owners, made stately rooms, bathrooms, open-sided lounges, and kitchens, on board; employed the original owners as captains and crew on their own boats; brought in a chef and a guide, and were in business.
You can, for instance, choose either to be part of the scene or, detachedly, away from it. Your houseboat, except when it ties up alongside in the firefly haunted night, is never so far away from the banks that you cannot share, vicariously, in the lives of the people of the backwaters. Yet, you are never really close enough to become intimately involved in their trials and tribulations. You can, with complete freedom, pick and choose your passing involvement as if you were plugged into a Virtual Reality experience.

| | |
| --- | --- |
| For the passengers, the backwaters' houseboat experience is a step further on the rejuvenating trail. The environment of Kerala, the atmosphere of this green State, is therapeutic in itself. Just being in Kerala, as we've said, is a health-enhancing experience. | |
But when you experience it in the peaceful drifting of a houseboat through the backwaters, you're adding a deep dimension of serenity to your therapy. Squadrons of brown and white ducks paddle past, arrowing for little thatched-and-tiled settlements on the palm-shaded embankments. Women hang out bright pennants of washing while their husbands, with bare, bronzed, bodies, fish with rod and line, or flared filigrees of nets, or with bows and harpoon arrows, or even with spiked bamboo probes, extracting skulking crabs from water-lapped eaves of the levees.
Everything here has a water-bias. The morning newspaper, an essential accompaniment to the first cup of tea, is delivered by skiff; water taxis convey spade-bearded Syrian Christian priests, school girls in blue skirts and white blouses, the fish-wives with plastic-lined baskets filled with mackerel; and a placid buffalo chewing the cud.
All through the day, chug-chugging water-buses hoot and dock gently against coconut-trunk jetties; a multi-cared racing canoe flees in a flurry of spray; a fisherman in a circular straw hat bobs in his dugout, his lines stretched behind him in the late afternoon.

The light softens and the sun is low and gold through the palms and you realise that you've drifted a whole day away: sipping coconut water, dining on fresh fish, crabs, steamed idlis and freshly roasted bananas with the taste and consistency of baked custard.
A church bell peals the evening angelus and women, with scarves draped over their heads, hurry into a backwaters church. Lights begin to appear in the thatched and tiled houses of the backwaters, a dog barks, a cow moos asking to be milked, the sun sinks in a blaze of golden glory. Constellations twinkle bright over the palms, thrusting silver starlight into the dark water.
Your houseboat nudges the bank and a boatman leaps ashore, carrying an electric lead. Soon lights and fans come alive in your floating home and crickets and frogs, disturbed by your boat, pluck up courage again and, tentatively at first, and then with increasing confidence, begin to sing their welcome to the approaching night.
You fall asleep wrapped in tranquillity and to a little night music from the tiny, green choristers of the backwaters. Generally, a short session of backwaters serenity is enough to cure most of the ailments of urban "civilisation," but if you have deeper disabilities of the mind, the heart, and the body you can walk further on Kerala's rejuvenating path. You must seek out one of Kerala's yoga, massage and Ayurvedic healing centres.