HAPPY VISHU - APRIL 15th 2022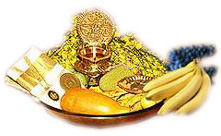 Vishu is a festival held in the state of Kerala (and adjoining areas of Tamil Nadu) in India around the first day in the Malayalam month of Medam (March – April). This occasion signifies the Sun's transit to the zodiac Mesha Mesha Raasi as per Indian astrological calculations. This day is celebrated in almost all places in India by the Hindus albeit by different names. In Bihar this day is called Bihu, in Punjab Baisakhi and in Tamil Nadu Puthandu.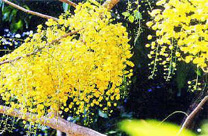 The festival is marked with offerings to the divine called Vishukkani. The offerings consist of a ritual arrangement of auspicious articles like raw rice, fresh linen, golden cucumber, betel leaves, arecanut, metal mirror, the yellow flowers konna (Cassia fistula-Golden Shower Tree-Kanikonna), and a holy text and coins, in a bell metal vessel called uruli.
A lighted bell metal lamp called nilavilakku is also placed alongside. This arrangement is completed by women overnight. The Vishukani is later taken and distributed among the poor people.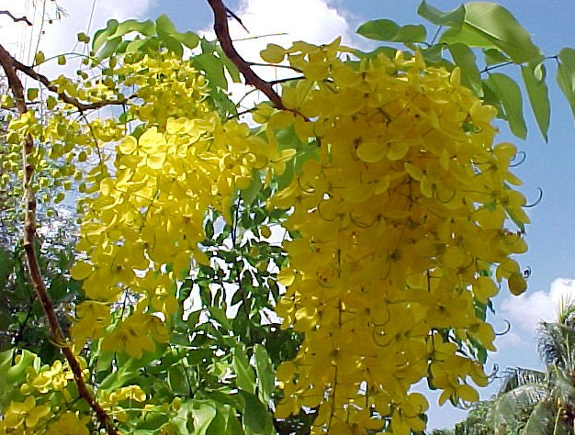 The people buy new clothes (kodi vastram) for the occasion and the elders of the family distribute tokens of money to the children, servants and tenants. These tokens are called the Vishukaineetam and are usually in form of coins. People carry on this custombelieving that in this way, their children will be blessed with prosperity in future.
Vishu is also a day of feasting, wherein the edibles consist of roughly equal proportions of salty, sweet, sour and bitter items. Feast items include 'Veppampoorasam' (a bitter preparation of neem) and 'Mampazhapachadi' (a sour mango soup).
People will send vishu cards to their friends & relatives.

For Advertisements
Call Us at 09847525344