| | |
| --- | --- |
| | This section is not intended for Royal blooms. They have to wait for few years. But they can help their elder sisters, elder brothers or mothers. Do not start cooking with out permission of your mother. Like other skilled activities cooking also require training. |
Therefore spend a portion of your leisure in kitchen along with your mother and observe all activities like, how to operate gas stove, heater and how to handle hot vessels, boiling liquid, hot food etc. Catch the a.b.c ..Of cooking. If you know a.b.c…. of cooking your mother will call for your assistance. The best and easy way to become an expert cook is to offer your help and do yourself at mother's presence. Mother is always the best teacher.
If you have any special recipe in your stock please send us mail to cooking@kidswebindia.com and automatically become member of "SUPPLEMENT and get a COMPLIMENT" Scheme and avail certificates/ prizes.


The following are few simple and easy to follow tried out Indian recipes.

Bull's Eye
Place frying pan on burning stove and pour 1 teaspoon of any vegetable oil. Cut (strike) egg with the edge of a spoon or with a blunt knife. Split the egg in to two halves and allow falling slowly on to pan with out damaging the shape of yolk. Dust a pinch of salt and pepper powder. Bull's eye will be ready by 1- 2 minute.



Half/ Boiled Egg
Place eggs carefully in a vessel and fill water just to cover the eggs. Boil for 1-2 minutes. For half boiled egg immediately take out with the help of a spoon. For boiled egg allow cooling in the vessel itself. Use with salt and pepper powder.



Omelet
| | |
| --- | --- |
| Egg | 1 no. |
| Onion chopped | 1 tablespoon |
| Green chilly chopped | 1 no. |
| And oil, curry leaves, salt. | |
Heat oil in a frying pan. Mix all other items in a cup. Stir well and pour in to frying pan. Cook 1 minute each side .For scrambled egg stir well and cook. Serve hot.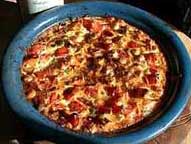 Egg Tomato Fry
Egg
3 no
Onion chopped
½ cup
Tomato chopped
1 no
Green chilly chopped
3 no.
Mustard
½ tea spoon
And oil, curry leaves,pepper powder and salt.
Heat oil. Crackle mustard. Add all items except eggs. Cover with lid and cook for 3- 5 minutes. Add beaten egg, stir well and cook for 2 minutes. Serve hot.

Ice cream (Basic)
Milk
1/2 liters.
Eggs
2 nos.
Sugar
2 table spoons/ to taste
Vanilla essence
3-4 droops
Boil the milk. Beat the eggs till well blended. Add the sugar to the milk and stir under moderate heat till the custard is thick enough to coat the back of spoon. Set down the fire and stir well Add few droops of vanilla essence. Allow cooling and then freezing till firm.


Ice cream (Condensed Milk)
Condensed milk
1 cup
Water
½ cup
Egg
1 no
Vanilla essence
3-4 droops
Mix a cup of sweetened condensed milk, half cup of water and 3-4 droops of vanilla essence. Beat an egg until light and frothy. Gradually add to diluted condensed milk. Cook for 1-2 minutes. Allow cooling. Pour in to tray and freeze till firm.


Banana Sweet
Ripped banana
1 no
Ghee
1 tablespoon
Sugar
1 tablespoon

Remove the outer skin of banana. Cut in to small pieces of 3 mm thickness. Slowly heat ghee and banana pieces in a pan to 2-3 minutes. Sprinkle sugar. Serve hot.